Nike Grid by Stamen Design
I love the style of this visualization- it shows how maps don't have to always be standard but can be a bit retro. The hexagon icons and insets also fit with the "grid" theme. Also cool is how this visualization is acting as a scoreboard and instruction set for a game.
Crime Spotting by Stamen Design
This visualization aggregates real time police data depicting crime rates in San Francisco. I'm thrilled at both the real world use for the citizens to monitor information that would otherwise be inaccessible to them locked up in police files or in the back pages of newspaper and the interactivity to filter specific results and time periods one is looking for.
Home & Away by Stamen Design
Again, another Stamen Design favorite- this visualiztion I love for its use multiple panels of information that connect with one another.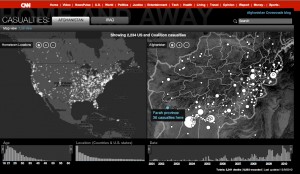 International Number Ones by David McCandeless
While David McCandeless often can get away with witty visualizations that are text heavy, this one is crossing the line. The whole point of visualizations is that there are other ways of depicting information besides simply writing the text. The overlay over Europe is confusing and distracting and the use of color is completely arbitrary. Also, I think it is saying Poland is simply number one with woman…? The bottostopm notes there have already been edits to this. David McCandeless should stop grinding out visualizations at top speed before it both hurts himself and the industry.